(What it will eventually look like)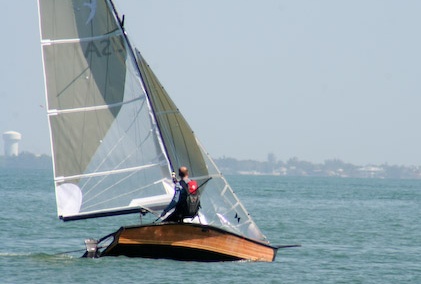 (What it does look like)
---
USA012 — Crusher
---
My grandfather, Frank Stevens, built boats. I know of at least four — he built a small pram, "Pootzy", which he used to row around the local lake. That boat was lost when it escaped its strappings and flew off the top of the car. He built a new one, "Pootzy 2", which is now housed in Max's basement.
His next boat was his first sailboat, a pram, 12 ft. in length, named "Chick". All his children learned to sail in her in the great lakes (less Michigan), and in the Atlantic off Maine. She was a "St. Catharines" boat, travelling on the car roof. My dad tells me he gave this boat away to one of his clients at the bank he worked at.
His next boat was a large, 20-foot sailboat. I remember visiting Grandad as a kid, and seeing his boat in various stages of repair in his garage. It had a light, powder blue paint on the hull, and plenty of exposed woodwork - quite a sight. Of this boat, my uncle Herb says:
My Dad's 2nd sail boat is a British "Rambler" design, and was christened "Loon" when launched in Falcon Lake, Manitoba (east of Winnipeg) in the autumn of 1963. Construction started in St. Catharines and finished in Winnipeg. My Dad's transfer with the bank was conditional on the bank paying the moving of her. This boat resembles the "Lightning" design, with its double chine, but is not intended to be a racer, as is the "Lightning" class. It is 17 ft. 6 in. in length and the design was slightly modified to add a bit more freeboard in order to keep the interior drier, as family and middle-aged cruising were planned.
Today, this boat is housed in Uncle Herb's garage.
When Grandad was in the war, he was in the navy, stationed on a number of destroyers (HMCS Kokanee, HMCS Naden) (he said the worst part of working on a destroyer was when they were setting depth charges for the U-Boats — a game of cat and mouse, and the winner never certain). For breakfast, he would eat Shredded Wheat, which back then was large — about 5 cm by 15 cm. These he would crush with his hands, before pouring the milk on. Thus his nick-name came to be "Crusher".
2008
---
2007
---
2006
---
2005
---
2004
---
2003
---
---